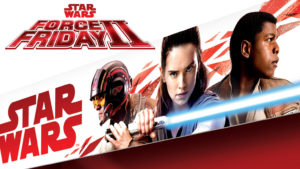 STAR WARS FORCE FRIDAY II COMING SEPTEMBER 1, 2017
GET THE FIRST DETAILS ON THE GLOBAL LAUNCH OF STAR WARS: THE LAST JEDI TOYS, COLLECTIBLES, AND MORE!
Attention, Star Wars fans: It's time to make some room on your desk, toy shelf, bookshelf, and in your closet.

Disney and Lucasfilm today announced Star Wars Force Friday II, a global fan event celebrating the launch of Star Wars: The Last Jedi products. Toys, collectibles, books, apparel, and more will go on sale beginning at 12:01 a.m. on Friday, September 1, 2017, with stores around the world opening for a weekend-long celebration of all things Star Wars. In addition, packaging for the new line, featuring striking images of a lightsaber-wielding Rey, Poe Dameron, and Finn, was also revealed today and can be seen below.
Please follow and like us: